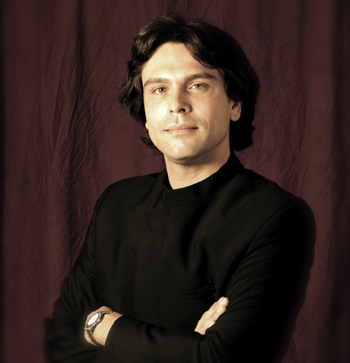 PETKO DIMITROV serve as a Music Director of the New Symphony Orchestra in Sofia for a 5 yeas. He also presently serves as Music Director of Lakeland Youth Symphony, Principal Conductor of the Gemini Youth Symphony Orchestra, and Assistant Conductor of the Ridgefield Symphony Orchestra. Since February 2015, Mr. Dimitrov joined the faculty at School of Mahanaim, where he teaches orchestral performance.
In 2012, Mr. Dimitrov was invited by the Curtis Institute of Music to be Conductor in Residence at the Young Artist Summer Program, which resulted in immediate re-invitation for the 2013 and 2014 Curtis Summerfest. This season Petko will also return to conduct Symphony in C, one of the three professional training orchestras in the United States, and Ridgefield Symphony Orchestra in Connecticut. In April 2015, Mr. Dimitrov has his conducting debut with Jena Philharmonie, Germany.
Previously, Petko Dimitrov has served as Artistic Director and Conductor of the Ridgefield Symphony Orchestra's summer series at Lasdon Park in Katonah, New York. He has also served as Assistant Conductor of the Princeton Symphony and Symphony in C. Mr. Dimitrov had his debut at Carnegie Hall in 2007, Avery Fisher Hall in 2008 and Alice Tully Hall in 2015. In the spring of 2007 Petko led WCYO on tour in Austria and performed in prestigious concert venues such as Haydnsaal in Eisenstadt and Schlossberg in Graz.
As Assistant Conductor of the Haddonfield Symphony, Mr. Dimitrov was awarded a Bruno Walter Memorial Foundation Fellowship in the 2007-2008 season, which recognizes accomplished young conductors and provides them with a monetary award to further develop their career. Mr. Dimitrov has been selected twice among the finalists of the George Solti International Conducting Competition.
Petko Dimitrov made his conducting debut with the New Symphony Orchestra, Sofia, Bulgaria in 1998, performing a concert with music by Sir Michael Tippet and Henry Purcell, in collaboration with The British Council. Since 2001 Mr. Dimitrov has been studying and working in the United States. In 2004 he completed his Master's Degree in Orchestra Conducting at the University of Michigan, Ann Arbor under the direction of Prof. Kenneth Kiesler. Petko completed his studies with Prof. Gustav Meier at the Peabody Conservatory (2006), John Hopkins University in Baltimore, MD, where he pursued a Graduate Performance Diploma in Orchestral Conducting.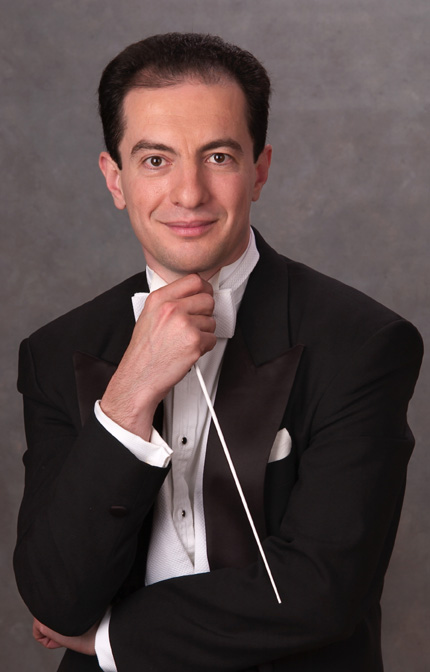 Rossen Milanov
Music Director Emeritus
"…one who bears watching by anyone who
cares about the future of music."
Chicago Tribune

Respected and admired by audiences and musicians alike, Rossen Milanov is the new Music Director of the Columbus Symphony Orchestra and recently completed his first season with the Chautauqua Symphony Orchestra to enthusiastic acclaim. He is also the Music Director of the Princeton Symphony and of the Orquesta Sinfónica del Principado de Asturias (OSPA) in Spain. In 2015 he completed a 15-year tenure as Music Director of the nationally recognized training orchestra Symphony in C in New Jersey.
During the 2015/16 season he is dedicating the concert season of the Princeton Symphony to Women's creativity and will showcase the compositions of some of the most respected emerging female composers, such as Anna Clyne, Caroline Shaw, and Sarah Kirkland Snyder. In Columbus, Ohio he begins his tenure with transformative and creative ideas for new programming and expanding the orchestra's reach to new audiences. With OSPA he celebrates the 25th Anniversary of the orchestra with 25 new works and premiere performances in Spain. He will be conducting a new production of Tchaikovsky's "Swan Lake" at Zurich Opera.
His recent season highlights include appearances with the Colorado, Detroit, Milwaukee,Vancouver, Fort Worth, Aalborg, and Latvian National Symphony Orchestras; National Symphony Orchestra at the Kennedy Center, Toronto Symphony Orchestra, Zurich Opera, Hyogo Performing Arts Center Orchestra and his Link Up education projects with Carnegie Hall and the Orchestra of St. Luke's. He also appeared with Opera Oviedo in Spain, Hungarian National Orchestra, Orchestre Philharmonique de Strasbourg, New York City Ballet, Pacific Symphony, and the Curtis Symphony Orchestra in Verizon Hall in Philadelphia.
Mr. Milanov has collaborated with some of the world's preeminent artists, including Yo-Yo Ma, Itzhak Perlman, Joshua Bell, Midori, Christian Tetzlaff, and André Watts.  During his eleven-year tenure with The Philadelphia Orchestra, Milanov conducted more than 200 performances, as Associate Conductor and as Artistic Director of the Orchestra's summer home at The Mann Center for the Performing Arts.  His passion for new music has resulted in numerous world premieres of works by composers such as Richard Danielpour, Nicolas Maw, and Gabriel Prokofiev.
Rossen Milanov studied conducting at the Curtis Institute of Music and the Juilliard School, where he received the Bruno Walter Memorial Scholarship.
A passionate chef, he often dedicates his culinary talents to various charities.